The explosion of new technologies has allowed the emergence of new formats of online courses such as MOOCs, SPOCs and so on. Learner is no longer limited to the paper textbook to acquire new skills. In this context, we must consider the centralization and valorization of the different sources of information that a learner has access to.
A powerful method to centralize learning tracks
The Tin Can standard, also known as Xapi, could constitute an answer. This standard is the evolution of SCORM, set for structuring learning objects and guaranteeing exchanges between different LMS (Learning Management System). This new standard offers more flexibility than SCORM to gather, follow and record more complex learning tasks.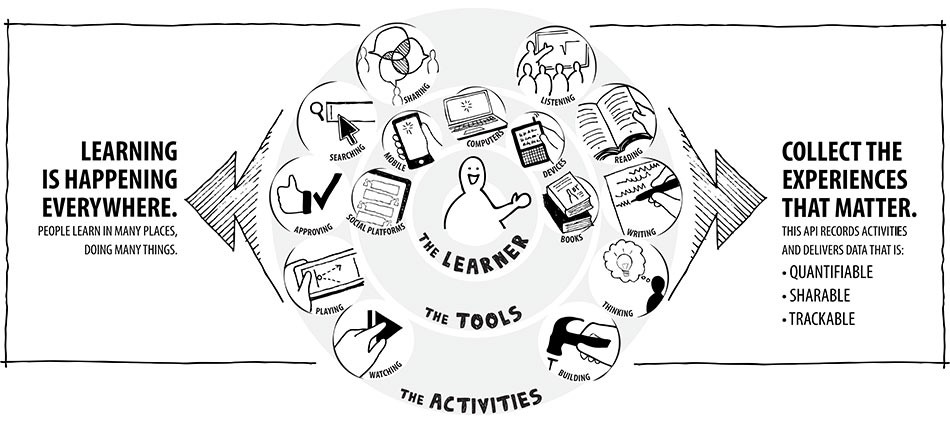 Tin Can allows is not inevitably linked to a LMS, it directly communicates with an LRS (Learning Record Score). This LRS is the heart of the Tin Can ecosystem and receive, store or return structured recordings about a learner's learning experiences, accomplishments and achievements. This data can come from several sources (eg: mobile applications, serious games, textbook readings). Information retrieved from various sources, is stored in the LRS, data aggregation becomes possible. It provides relevant learning indicators to both platform administrators and learners. This is a first step in building accurate learning analytics, which allow to better adapt platforms to learners' needs, habits and wishes.
Impact on the MOODECX ongoing project
In phase 2 of the project, we have decided to link our platform to Learning Locker, an OpenSource LRS, to retrieve participants of our MOOCs, in order to analyze them and build two dashboards:
A decision-making dashboard providing an overview of the courses and the platform to the administrators and global aggregated data related to users' profiles attending these courses,
The dashboard for learners will provide users with data on their own habits by learning to consume and progress and compare them to other participants. This will allow them to become aware of their own learning strategies. With this scorecard, Moocs participants will track their own progress and determine how they learn. A metacognitive approach that improves the storage of learning and its recall.
Keep in touch with our latest progress updates and visit our Github repository.